Tapered End Cuts
ForteWEB allows you to analyze tapered end cuts on Floor and Roof Flush Beam members. Roof Beam members must be flat (slope of .25/12 and smaller). This ensures proper sizing for when the end of the member needs to be cut to match a roof slope.
Information for the end cut is entered using either Height and Slope information or Height and Length information. If you have tapered end cuts at both ends of the member, you will need to enter the information the same way for both ends.
To clear end cut information, click on the Delete icon

next to the end you wish to clear.
The member graphic will update to represent a tapered end cut on the member.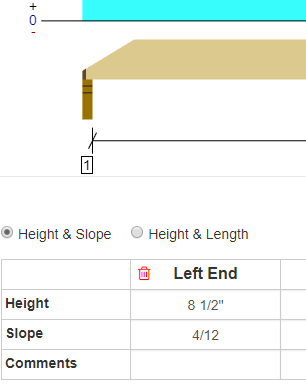 If the member fails tapered end cut analysis, notes will be displayed on the Member Report above the member graphic and the report will display FAILED. If the member passes analysis, the member report will display PASSED and analysis information will be displayed in a grid on the report.

For more information on the limitations of tapered end cuts, please see Rules for Tapered End Cuts.